Fill out the below form to get your free starter kit.
Request your free starter kit.
Every day you put off treating your patients for OSA is another day of fatigue and risk for them. That's why we make getting started with ProSomnus so easy.

Our starter kits are designed to help you start treating your patients right away and include everything you need to educate and treat patients.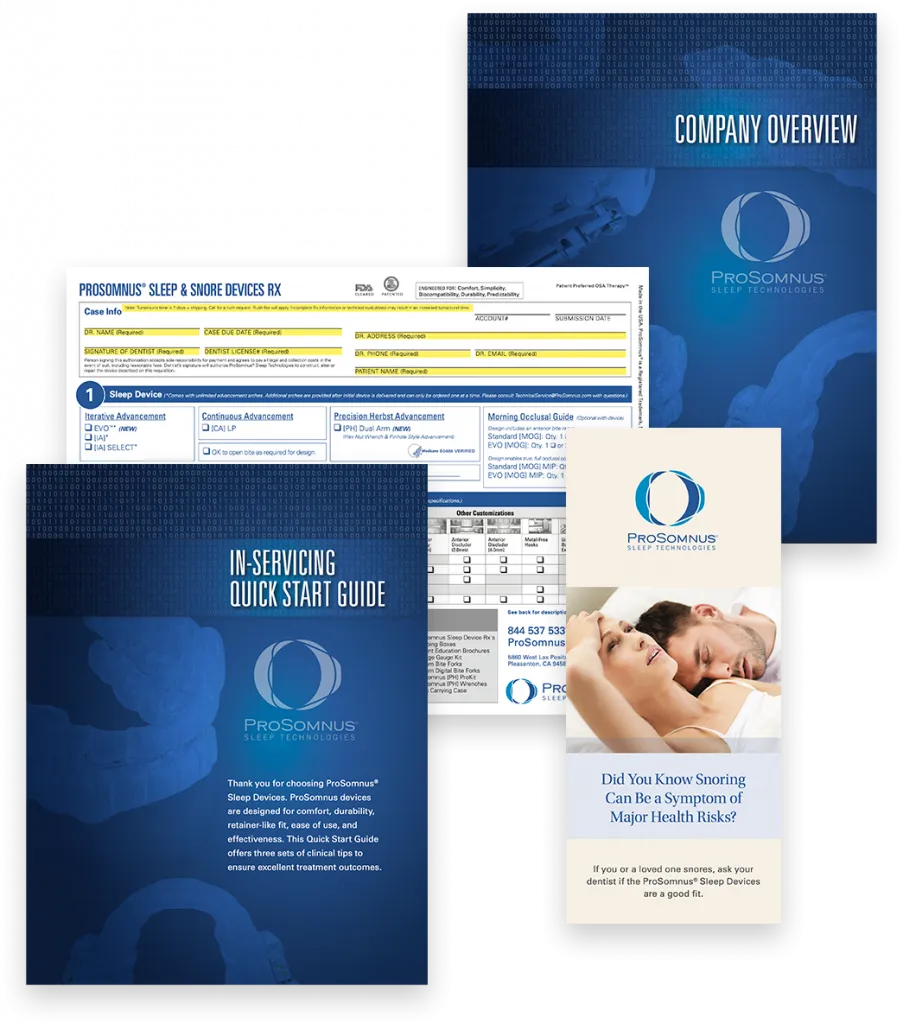 Why Are Dental Sleep Medicine Experts Choosing ProSomnus?
ProSomnus was founded on the premise that precision Dental Sleep Medicine can enable dentists to achieve better outcomes for more OSA patients, and that traditional OAT devices were a limiting factor. Today, ProSomnus Sleep Devices are preferred by patients, providers, physicians and payers over CPAP and traditional oral appliances. ProSomnus is the leader in precision OAT devices and the only OAT medical device manufacturer exclusively dedicated to helping dentists create better treatment experiences.

What does ProSomnus precision OAT mean for dentists and their patients?

Better Efficacy, Better Compliance and Fewer Side Effects.

Click the downloads below to learn more about our products.
ProSomnus EVO
®
Sleep and Snore Device
For Preferred OSA Therapy
ProSomnus EVO SELECT Sleep and Snore Device
Engineered for Performance, Biocompatibility and the Greatest Comfort
ProSomnus EVO [PH] Sleep and Snore Device
The Only Precision Herbst-style Medical Device with Advanced Materials for OAT
ProSomnus [CA] LP Sleep and Snore Device
The Only Low Profile Continuous Advancement OAT Medical Device for OSA
ProSomnus [MOG] Morning Occlusal Guide
The First Precision Morning Occlusal Guide
Great patient outcomes means happier patients
and more high quality referrals for your practice.
Create better outcomes and happier
patients with ProSomnus.